The original crocheted footbag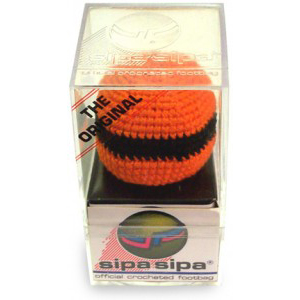 It's said that competition is healthy, and it can often trigger creativity and innovations. In the early 1980s, the Hacky Sack® footbag hype was challenged by its first friendly competitive fire.
In the late 1960s and early 1970s, Wham-O, Inc. employed Tom Boda of San Gabriel, California in their research and development division. Boda, who enjoyed sports of all kinds, was also an inventor of hundreds of games, from tabletop games to outdoor field games. Boda joined Wham-O's sports promotions department, organizing special events and flying disc (aka Frisbee®) tournaments alongside Dan "Stork" Roddick, Wham-O's sports promotion director.
As the footbag movement migrated south to California from its Oregon boundaries in the late 1970s, it quickly caught on with the ripe audience of the flying disc players. Boda, a big "game" guy, immediately latched on to the captivating appeal of this new activity. He enjoyed competitive sports, but found himself much more attracted to games that were fun, open to all, and involved human interaction. Boda was hooked on the potential of footbag circles.
"KickDance"
Boda began promoting footbag circles with music, which he enthusiastically dubbed "KickDance." This new style of play involved moving the circle freely with each player, all while controlling the footbag with a few quick kicks or flowing body rolls, and then passing to another player to equally involve everyone.
In April 1981, Boda received a small colorful, hand crocheted sash (a drawstring coin purse) from his close friend, Marlene Anderson, as a gift. His creative, innovative mind caused him to drop a two-panel, leather Hacky Sack® footbag inside the small crocheted pouch…his wheels quickly began to turn. Boda became obsessed with the creation of a new style of footbag that would be softer, more vibrant and colorful, rounder, and that would integrate perfectly into his "KickDance" footbag circles. He experimented with filler materials, sizes, shapes, and the best crochet techniques for this new footbag concept.
Granny Sacks
About this same time, and unbeknownst to Boda, flying disc player and new footbag enthusiast, Leslie Scott-Rose from Boulder, Colorado began a small business producing footbags to help feed the demand of this growing sport. Leslie took her two-panel Hacky Sack® to a group of elderly women in a nearby senior citizen home and asked if they could help create something similar. Their solution was a hand-crocheted, round ball, filled with a similar plastic pellet used in the Hacky Sack. These creative women, most of them grandmothers, along with Leslie coined the name Granny Sacks for their new style of footbag. The history is not certain if Boda's bag was the chicken or egg or if it was Leslie's Granny Sack. Sadly, Leslie passed away on July 11, 2010 after a long and courageous battle with breast cancer.
The Rest of the Story
In October 1982, Boda involved close friends and footbag enthusiasts—Stephen Connella, Mark Charles, and Tommy O'Hare—with the concept of manufacturing his new footbag idea. Boda invested $5,000 into the Nara Lila Corporation, which was formed by Connella, Charles, and O'Hare. Nara Lila, a Sanskrit term, was initially created by the trio for the manufacturing and marketing of their original idea for a line of raw silk designer jeans for women and an array of tuned wind chimes invented by Boda.
Connella, Charles, and O'Hare's search for a production facility lead them to skilled, crochet workers in the Philippines. The first experimental batch of bright orange, rayon threaded, crochet footbags that were filled with a Mardi Gras style of bead were visually appealing, performed great, and as an added bonus…came with their own animated fun sound when kicked. The same production facility in the Philippines, along with the use of rayon thread, crocheted outer cover, and large bead filling was the recipe for success until their closure in June of 2018.
For fun, a few of the sample footbags contained the words "Sipa Sipa" embroidered into the outer cover. The word "Sipa," in the native Tagalog language of the Philippines, translated to the word "kick." Connella suggested to the others that "Sipa Sipa" would make a great name for their new product; without hesitation, they all agreed.
The talents of the three corporate officers complemented the business nicely into a well-rounded team. Connella filled the role of sales and marketing director, O'Hare had a creative flare that made him a natural for graphic designer, and Charles' interest in the international scene stationed him in the Philippines to head up manufacturing and production.
In September 1984, the group took their product to the Action Sport Retailer trade show in Long Beach, California for their first official, public unveiling. The product launched with a few simple color combinations and a unique one color, offset black stripe around the middle of the footbag—this would become the patented trademark of the Sipa Sipa® footbag. The young, homegrown company—guided by real footbag enthusiasts with their hand-crocheted footbag, and fueled by the grass roots college and hipster markets—quickly began to take a bite out of the sales of the giant Hacky Sack® footbag business of Wham-O, Inc.
The popularity of the Sipa Sipa footbag grew quickly among players. Not only was it a fresh change from the ridged leather, two-panel Hacky Sack® footbag, but its soft cover material was very forgiving and played great. In the competitive arena, National and World freestyle titles were won with the Sipa Sipa® footbag in 1985 and 1986.
The Sipa Sipa did have one flaw…when the rayon cover material got wet, it turned rock hard, which would end play until the footbag dried out. In an attempt to solve this, however, the creation of "firebag" with a Sipa Sipa was born. Through comical experimentation, it was discovered that the rayon thread had a unique resistance to heat and flames. Professional demonstration teams, sponsored by Coors Light, used "firebags" for nightclub performances to the tunes of "Fire" by Arthur Brown or "Burning Down the House" by the Talking Heads.
A Sipa Sipa footbag was used in a 1985 national commercial for Michelob beer. Anheuser-Busch televised their commercial that featured the Sipa Sipa® footbag during the Super Bowl and NBA Finals. Sipa Sipa® footbags would later be used as the first premium (custom imprinted) footbag. Notable custom Sipa Sipa footbags were produced for Pepsi; OP (Ocean Pacific); the 1984 Olympic Games in Los Angeles, CA; and the legendary rock band, Grateful Dead.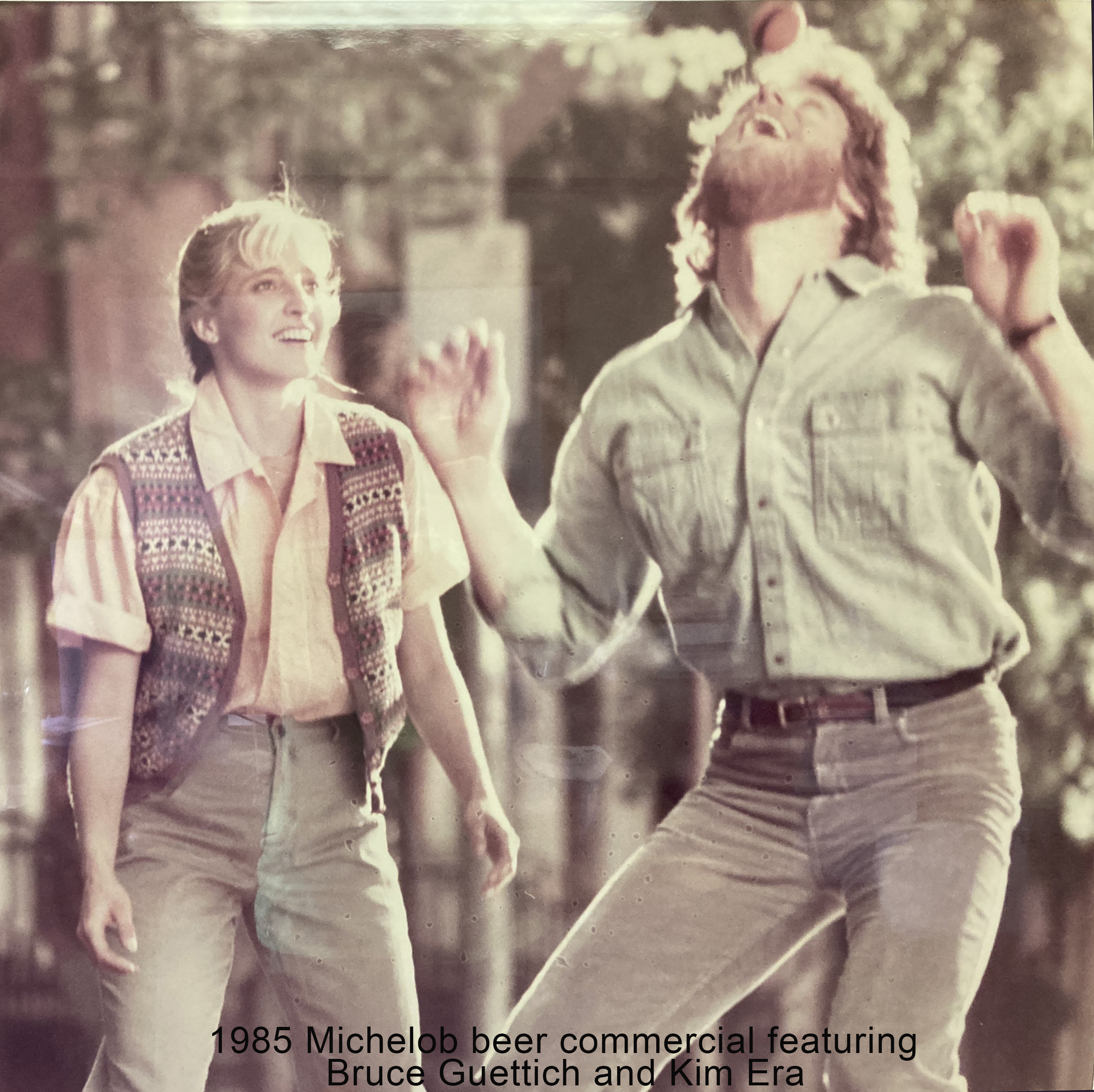 In June 1990, Nara Lila sold their product assets to businessman and entrepreneur, Ray Ferris of Torrance, California, for a cash settlement plus annual royalties. Boda, who made an early investment with Nara Lila at the inception of Sipa Sipa, was included in the royalty pay out. Ferris—whose background was in legal and finance for Mattel Toys—took the Sipa Sipa footbag to new retail heights for more than a decade. In October 2000, Ferris sold the Sipa Sipa client base of retail stores to World Footbag, who now services these stores with many of today's newest footbag innovations.
Boda, who still enjoys footbag and other sports, remains in the game invention business and also does life counseling for people all over the world from his home base in Carlsbad, California. Connella owns a successful chain of candle and soap shops throughout the Hawaiian Islands, and shares time between the island of Kauai and Bellingham, Washington. O'Hare is involved in commercial graphic design, photography, and printing in Laguna Beach, California, where he is an active surfer and plays music. Charles contracted the HIV virus while living in Cambodia and Thailand. In 1998, he passed away from complications with AIDS after moving to Boise, Idaho. Ray Ferris passed away of cancer in 2017 in his home outside of Torrance, California.
With Sipa Sipa being the largest manufacturer next to Wham-O, knockoffs were inevitable. Throughout the 1990s, and still to this day, the Sipa Sipa knockoffs from Guatemala, China, and Pakistan, and even Wham-O are made with cheap, cotton thread and small plastic, poly-resin pellets. These cheap knockoffs will never match the perfect and original Sipa Sipa from the Philippines.
Boda's vision of "KickDance" and the Sipa Sipa in the 1980s has manifested a remarkable path for the growth of footbags and the sport around the world; however, the Sipa Sipa may be imitated, but will never be duplicated.